How to register the domain name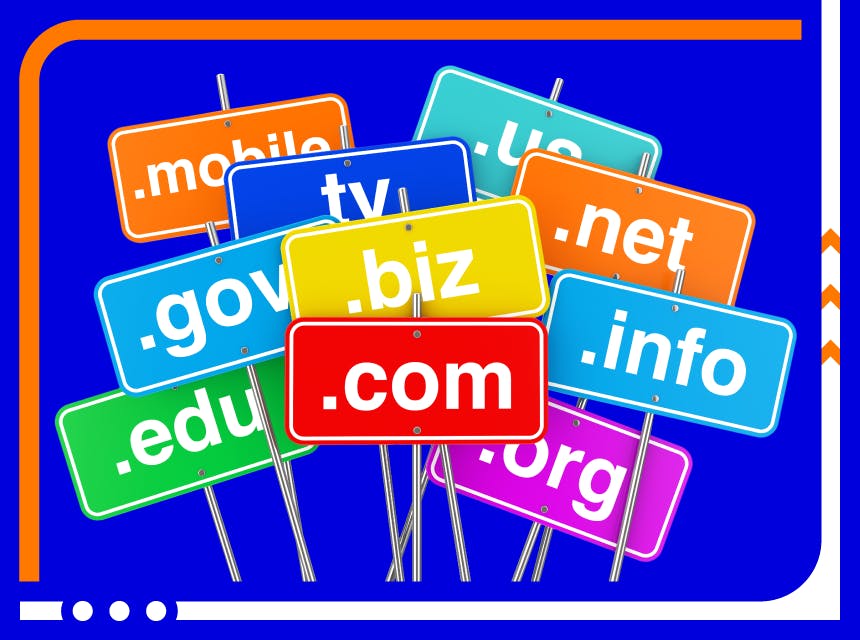 People are more and more enthusiastic about starting a blog or an online business in 2021. The burning question for them in this context is how and where to register a domain name? And that is quite a reasonable concern as it's the first step to consider when building a website. 

In this post, we're going to clear up any confusion regarding the domain names registration. You'll also find out how to get a free website address. So, gear up to obtain a great deal of useful information, and let's jump right in!
What is a domain name: Easy-to-understand definition
A domain name is a combination of alphabetical characters and numbers used to find any site on the Internet. It's what users type in the address bar to go to the webpage. For example, our domain name is tranzzo.com, and that's like our identification on the web. 

In simple terms, the Internet is like a huge parking space with zillions of cars. If you want to leave your vehicle there, you need to buy your own parking place with a memorable and easy-to-pronounce name. 

Why is it so important to come up with a sweet-sounding name that isn't hard to remember? That's because a domain is your business identifier. It will distinguish you from millions of other sites on the web. So, double down on creating a one-of-a-kind domain name. Don't gloss over these tips when searching for your business address:  
even though there are so many domain names registered with the .com extension, make sure to grab it too. This is what people always remember compared to other domain endings. 
if you are dead set on building a successful online presence in a specific country, stick with a local domain extension. For example, .ua, .ru, .co.uk, .fr and others. 
don't use hyphens, underscore or any other symbols. They're really difficult to remember and definitely not easy to type. 
avoid putting any numbers as they might confuse users. Most of the time, people don't know whether they are supposed to write them out or use the number itself. 
use your brand name or keywords when searching for a perfect website address.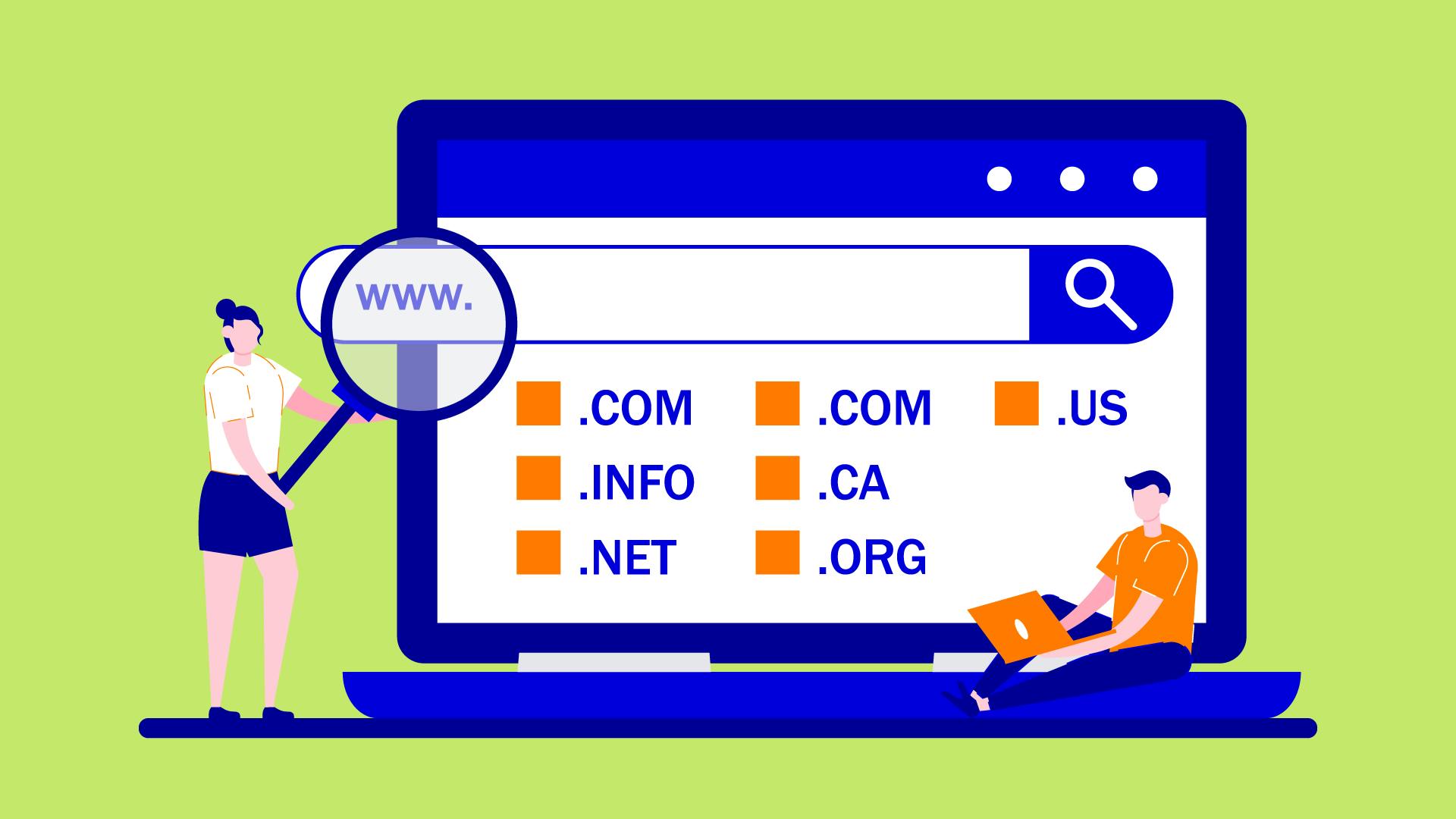 Let's sum up, your domain should represent your business, so choosing a brand name is an obvious choice. It also must be easy to remember and type in. And just for the record: the more often users write your domain name in the search bar, the more authority points from Google your website gets. That's crucial to boost your search engine ranking. So, don't go over the top with sophisticated phrases and catchy words but opt for something simple. 

If you have a hard time making up a great site address, leverage one of these domain name generators: NameMesh, Domain Wheel, Nameboy or Blog Tyrant.
Registering a domain name: step-by-step instruction
Let's guide you through the domain name registration process step by step. As an example, we'll use one of the most reputable domain registrars – Domain.com. In the upcoming sections, we'll take a look at some other registrars to use. 

Domain.com is a veteran on the domain name market. It was launched in 1999, and currency powers more than 1.2 million websites all over the world. The registrar features all top domain extensions like .net, .org, .com. If you're seeking a country-specific name, it's got you covered as well. Doniam.com has over 25 local endings.  

You can purchase the .com extension for $9.99 and .net for $12.99. Less popular endings can be bought for as low as $2.99. When paying that price, you'll get a domain name for a year term. Once it expires, you can renew a subscription. 

The service comes hand in hand with usual prices for its products, but that has nothing to do with their premium domains. Get ready to splash out thousands of dollars should you opt for something special. Premium web addresses have been previously registered and now are being resold for a large amount of money. That's the businesses with a long history. You'll face that not only at Domain.com. Selling premium names is a common deal on the Internet. For instance, bestpayments.com costs $4,896,99 per year. Although it sounds nice, we recommend you go for your brand name. That will boost your brand awareness and won't break your bank.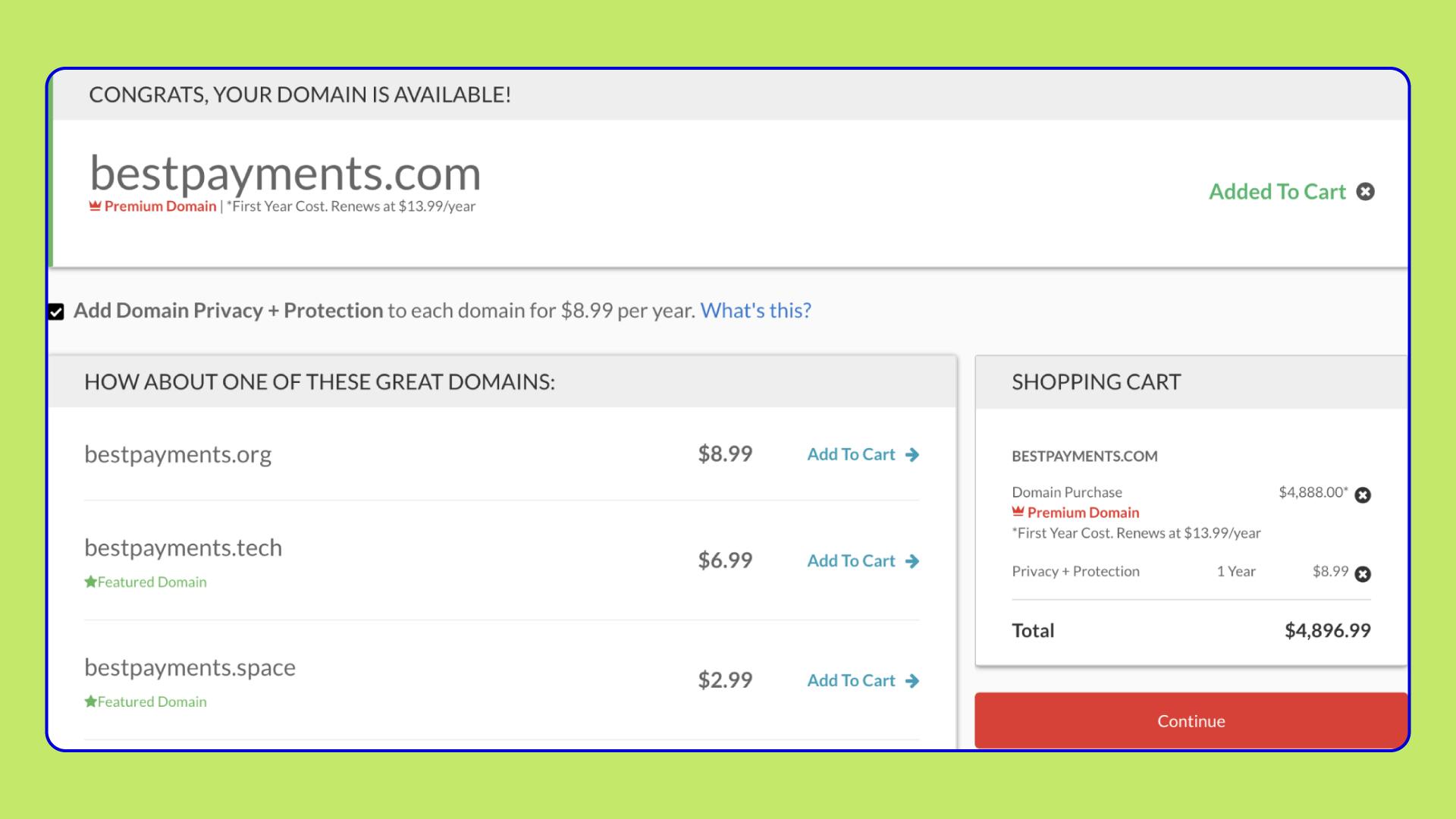 All right then, let's cut to the chase and see how to register a website address at Domain.com.
Step №1: Check the availability of the domain you want
Even if you already have a few ideas for your domain name, you still have a little left to do – search for the website address you desire and check whether it's available or not. Unless you know your future domain name, be creative and try different options. Some people say that the domain name is the main focus of your website. Well, it is not. But you still need to come up with something enticing.  

The first step is confirming that the name you're eying is on the market. To do that, type in different options in the search bar.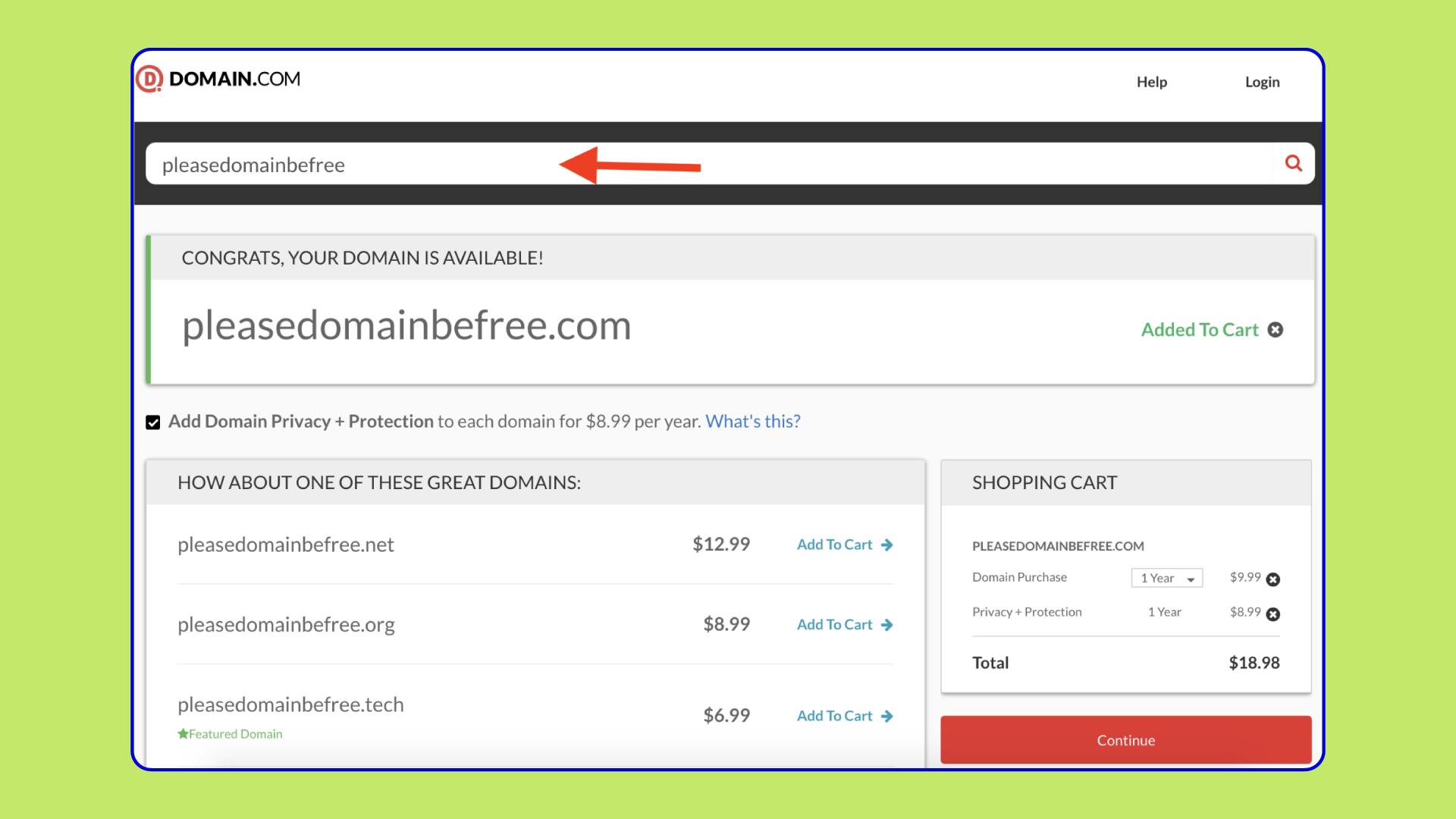 Step №2: Pick your domain extension
The .com extension is very popular and commonly used, so you'd better grab it right away. Unless you like it, scroll down and see the list of all the available options. If you choose .space, .me or .live, you can steal a deal. They and some other domain endings cost $ 2.99 just because they aren't preferred by many. 

Once you add the sought-after domain to your shopping cart, you'll be offered to purchase the Privacy+Protection add-on. It costs $8.99 per year and keeps your private data as well as your site and domain on the safe side. Privacy+Protection offers secure alerts when any unauthorised changes have been spotted. It also provides scanning for malware and backlist monitoring for your online project's reputation. Without this add-on, your first and last name, physical address, phone number and email address will be listed in the public WHOIS database. 

During this step, you are also welcome to choose your domain renewal period. It determines how long you hold the rights to that name, and it can be from one to five years.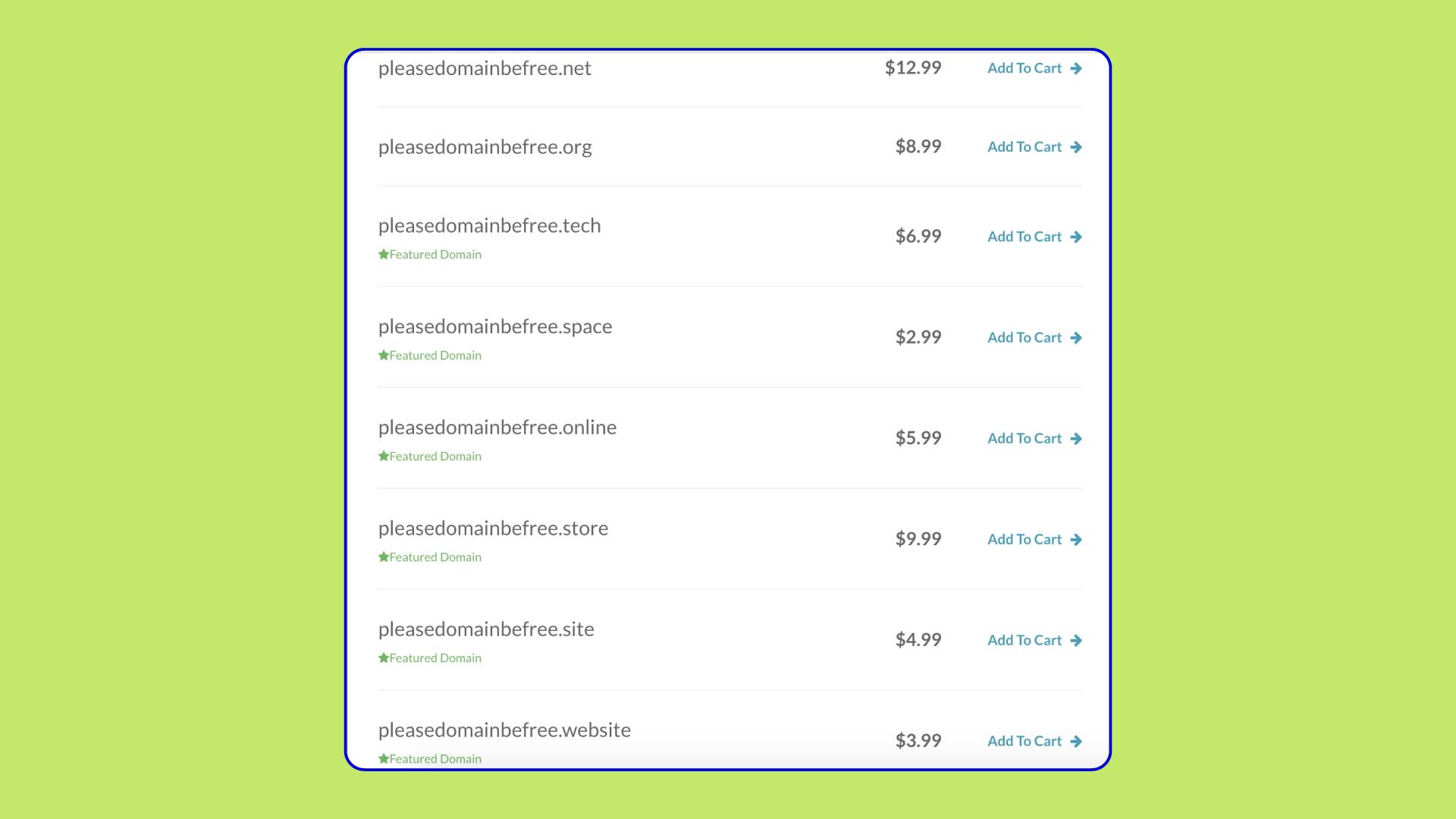 When you're ready to purchase the domain, click the "Continue" button.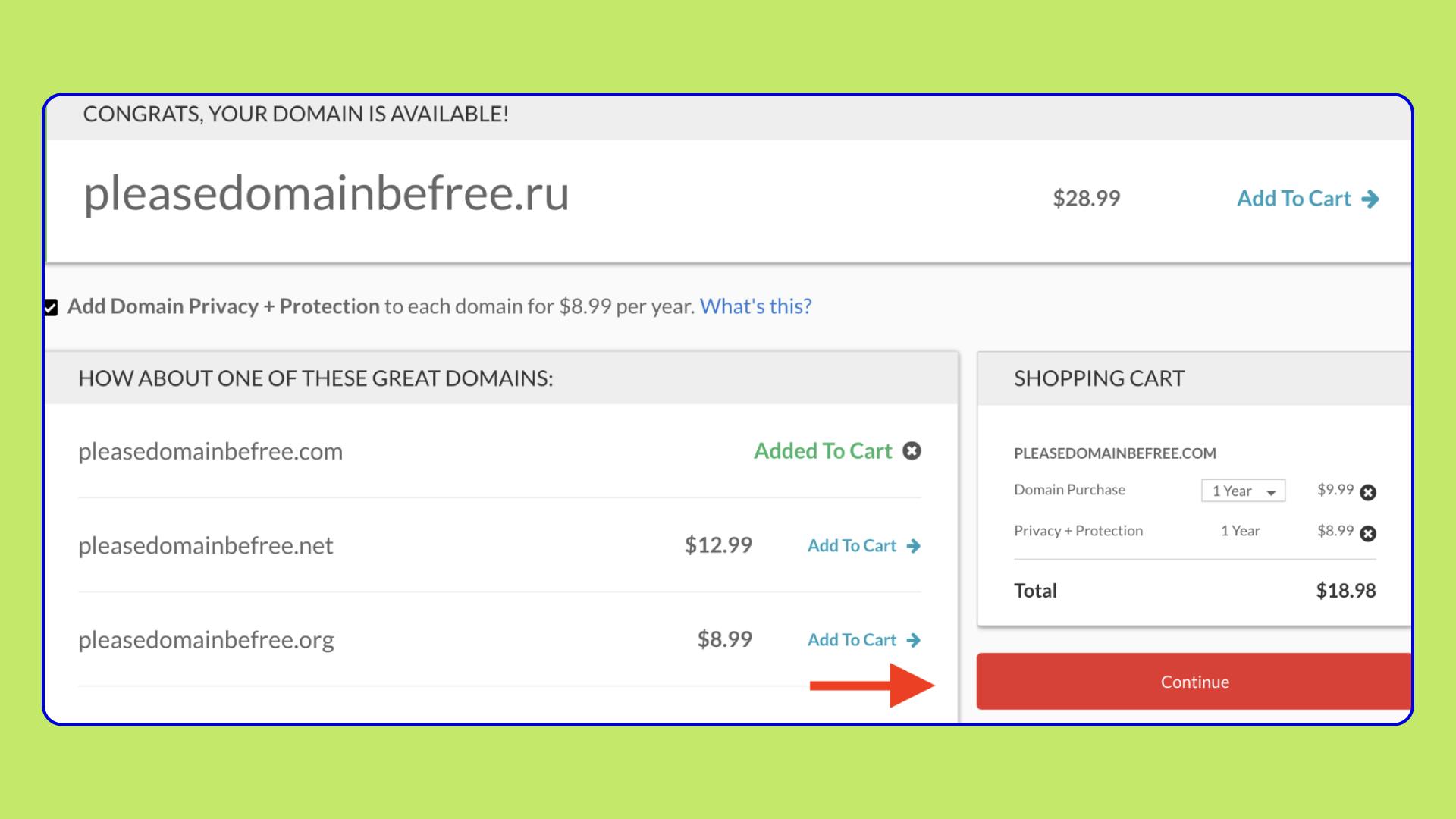 Before landing on the checkout page, you'll be offered to place different add-ons to your cart. Here is what you can pick: 
an email that matches your domain; 
access to the website builder; 
web-hosting; 
SSL certificate that brings you extra security; 
SiteLock tool that keeps your site safe from harmful threats.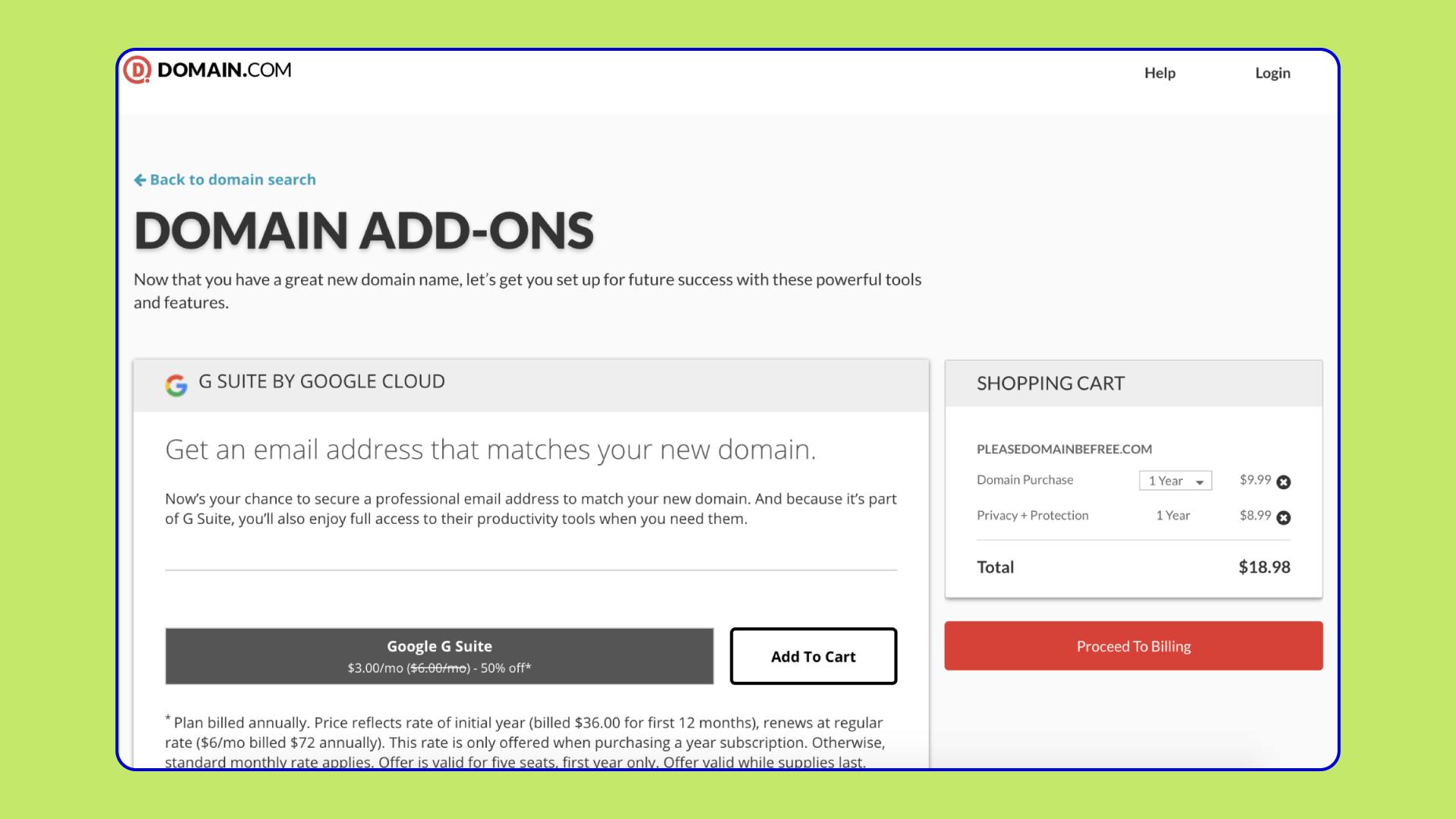 Step №3: Proceed to the checkout
The final step is to provide your personal information and billing data.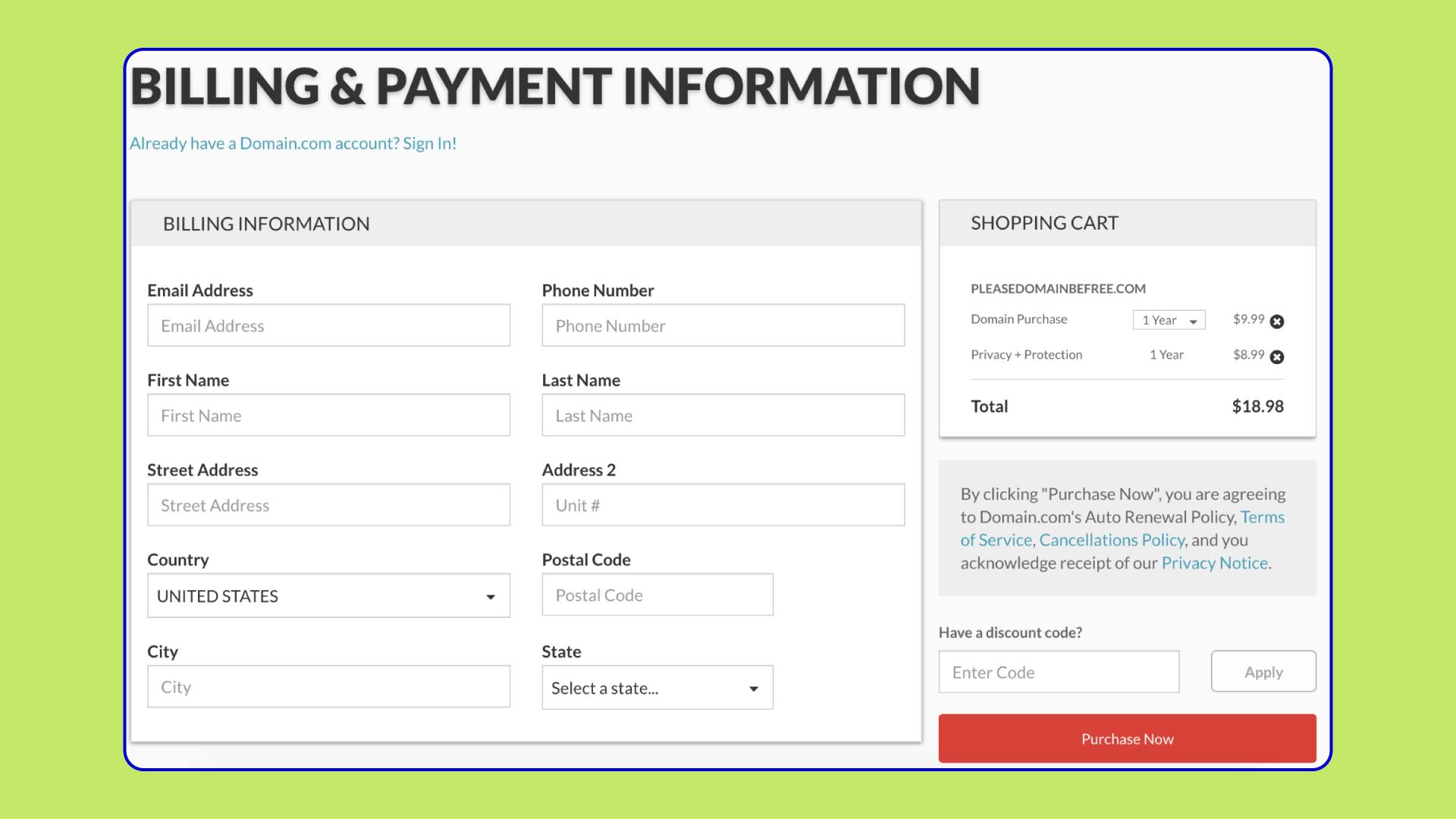 A word of caution: before hitting the "Purchase Now" button, check the domain spelling. It's really important not to make a mistake because you won't be able to change it after the purchase.
How to register a domain name for free
Rumour has it that you can actually get a domain name for free. And that is nothing but true. But don't think that you'll just come to the site, choose a web address, and you're good to go. Things are a little bit trickier.

If you're eager to cut down your expenses, you're welcome to resort to a web hosting provider that offers free domains for new users. Here is how it works: you purchase hosting for your online project and get a domain name without paying a cent. Let's say it's a present for first-time customers.  

It's hard to deny that you need both web hosting and a domain name to start an online business. Just for the record: every website should be hosted on a server to be reached by users. Without it, your site won't be available for viewing. So, it makes much sense to purchase a domain name and hosting together, especially if you can get the former for free. 

The benefits of such a deal are obvious. You obtain both – a hosting and a domain. But there is always a fly in the ointment. The downside of getting a chargeless web address is that you should pay a renewal fee after a free year, and it's usually way more expensive than the one charged at registrars. 

If you're tempted to give a web hosting service a shot and get a free domain name, consider using Bluehost. It's one of the biggest web hosting companies in the world. It was launched in 2003 and currently is powering more than 2 million websites around the globe. 

Depending on your project complexity, you need to choose a suitable pricing plan. Each of them contains a free domain, SSL Certificate, site monitoring, statistics and more.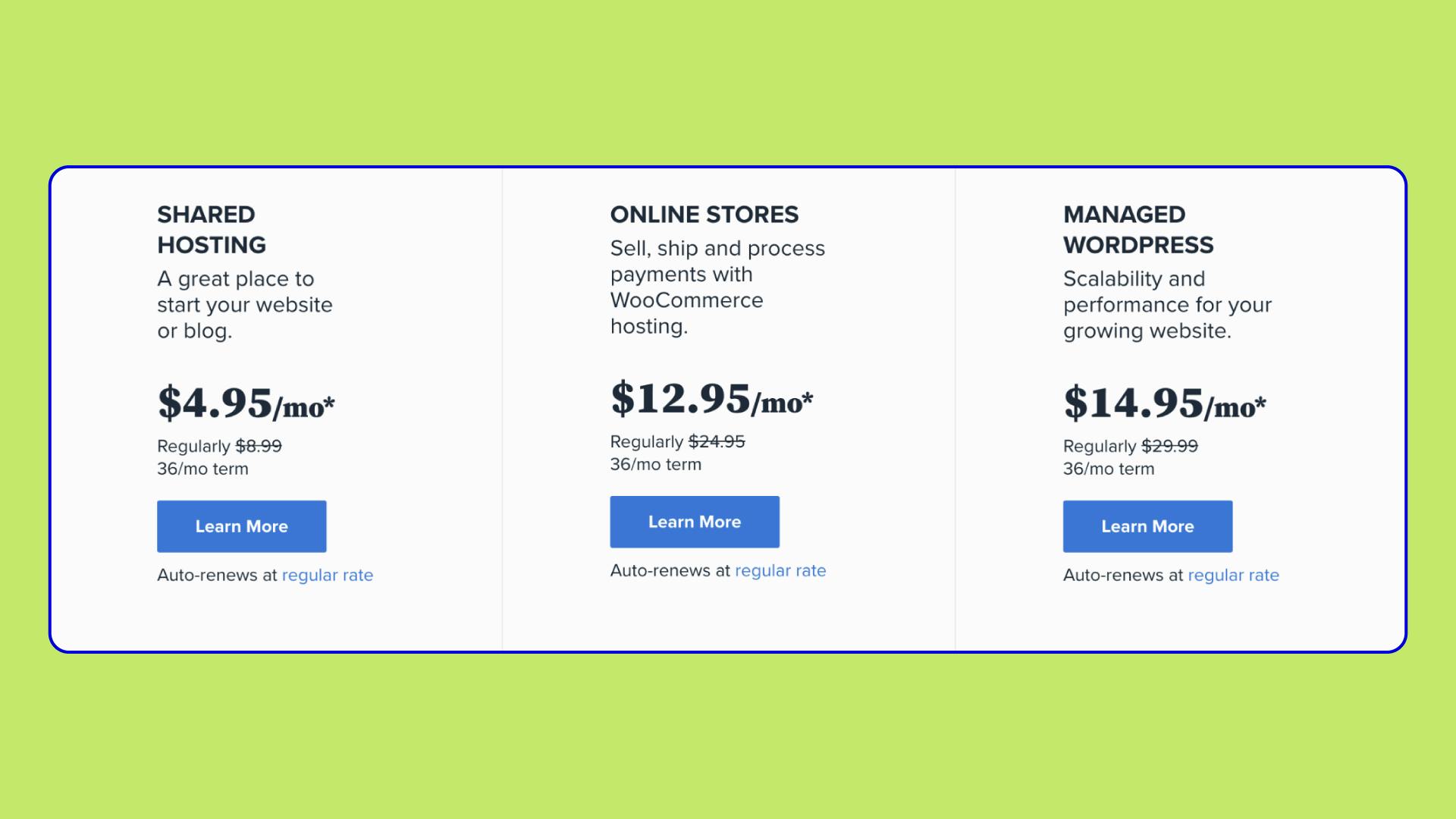 The process of domain registration is similar to the one at Domain.com. You create a new website address or use the existing one. And jump to the checkout page, where you need to fill in your account details and payment data.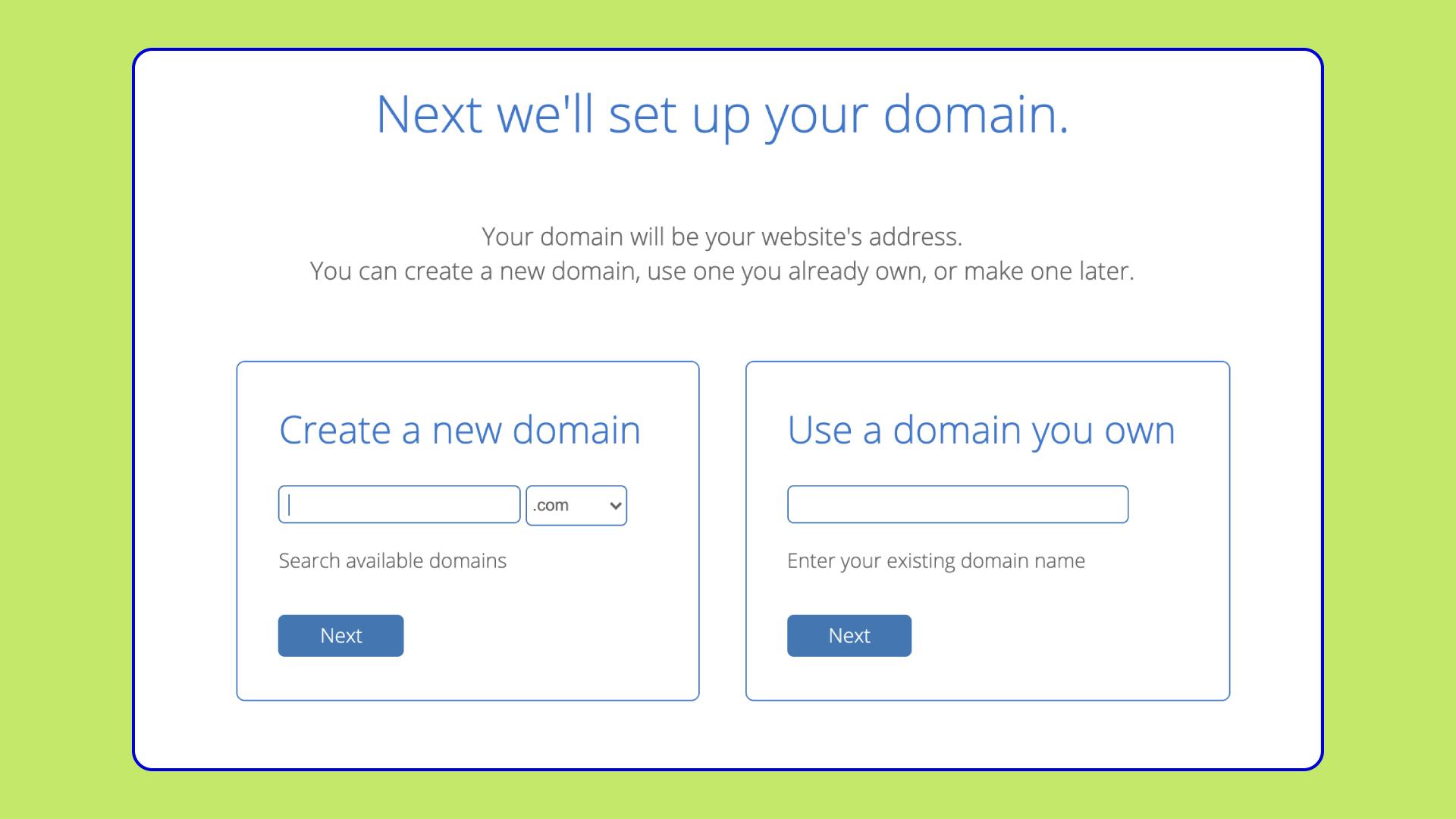 At the checkout stage, you'll be offered to purchase different add-ons such as site backup, SiteLock security and others. Unless you need additional functionalities, remove them from your shopping cart.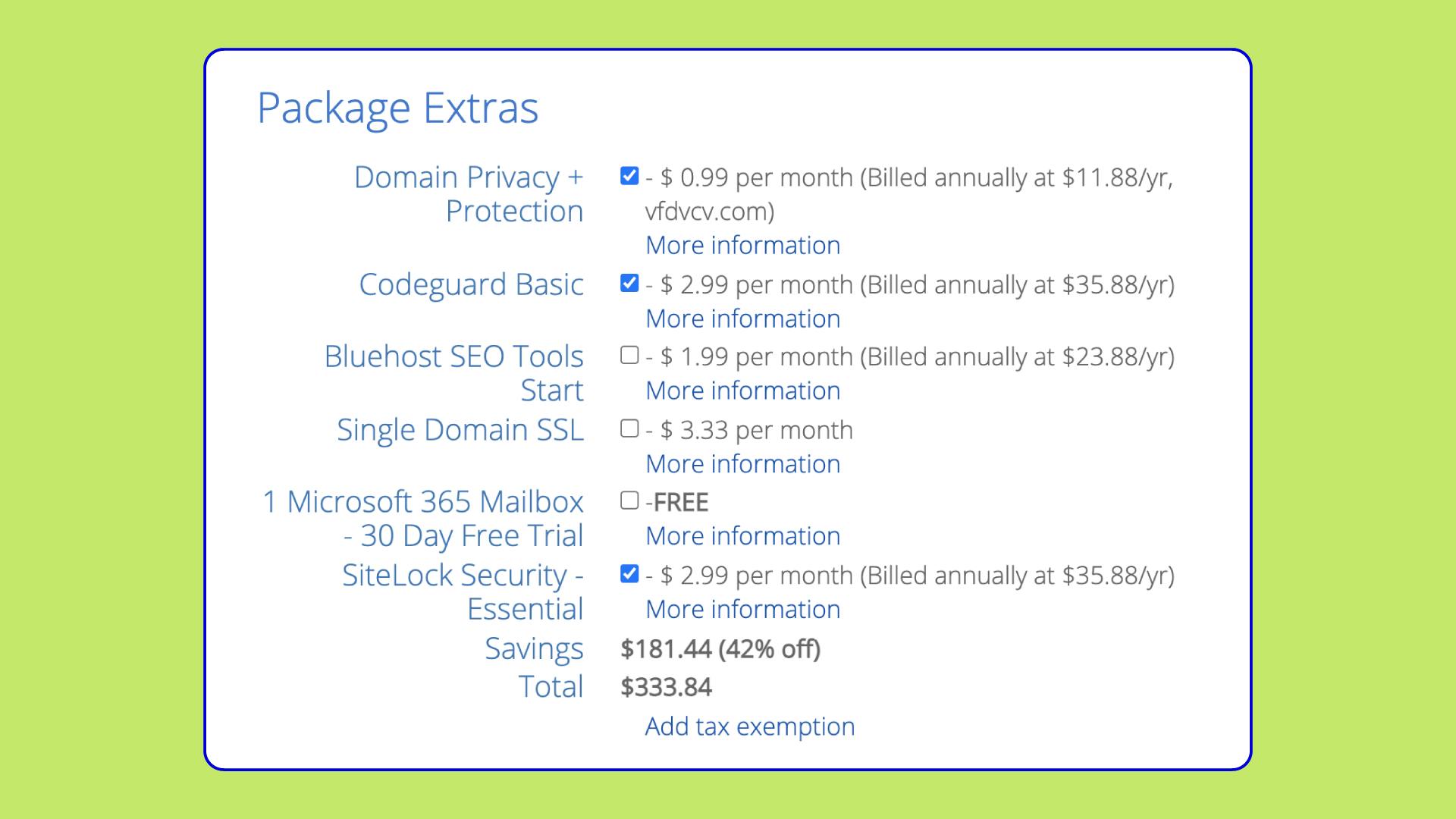 Bluehost isn't the only web hosting provider that features free domains. You can go for HostGator, InMotion Hosting or Dreamhost.
3 Domain name registrars to choose from
While Domain.com and Bluehost are rather popular providers, there are many other companies that offer decent services on favourable terms. Let's take a glance at the most popular ones.
GoDaddy
GoDaddy is a well-known option as it has a wide variety of extensions and a user-friendly interface. You can easily purchase a new domain or transfer an existing one. 

By the way, GoDaddy is, first of all, a website builder, so if you don't have a site, it might be your best pick. You can read more about this constructor in our article "5 Best website builders for small businesses: All tried and tested". 

The thing you should know about GoDaddy is that its domain name prices aren't that friendly as its interface. They start at $33 and go up to $2,798. Domain privacy and protection will cost you additional 199 or 419 bucks for ultimate security.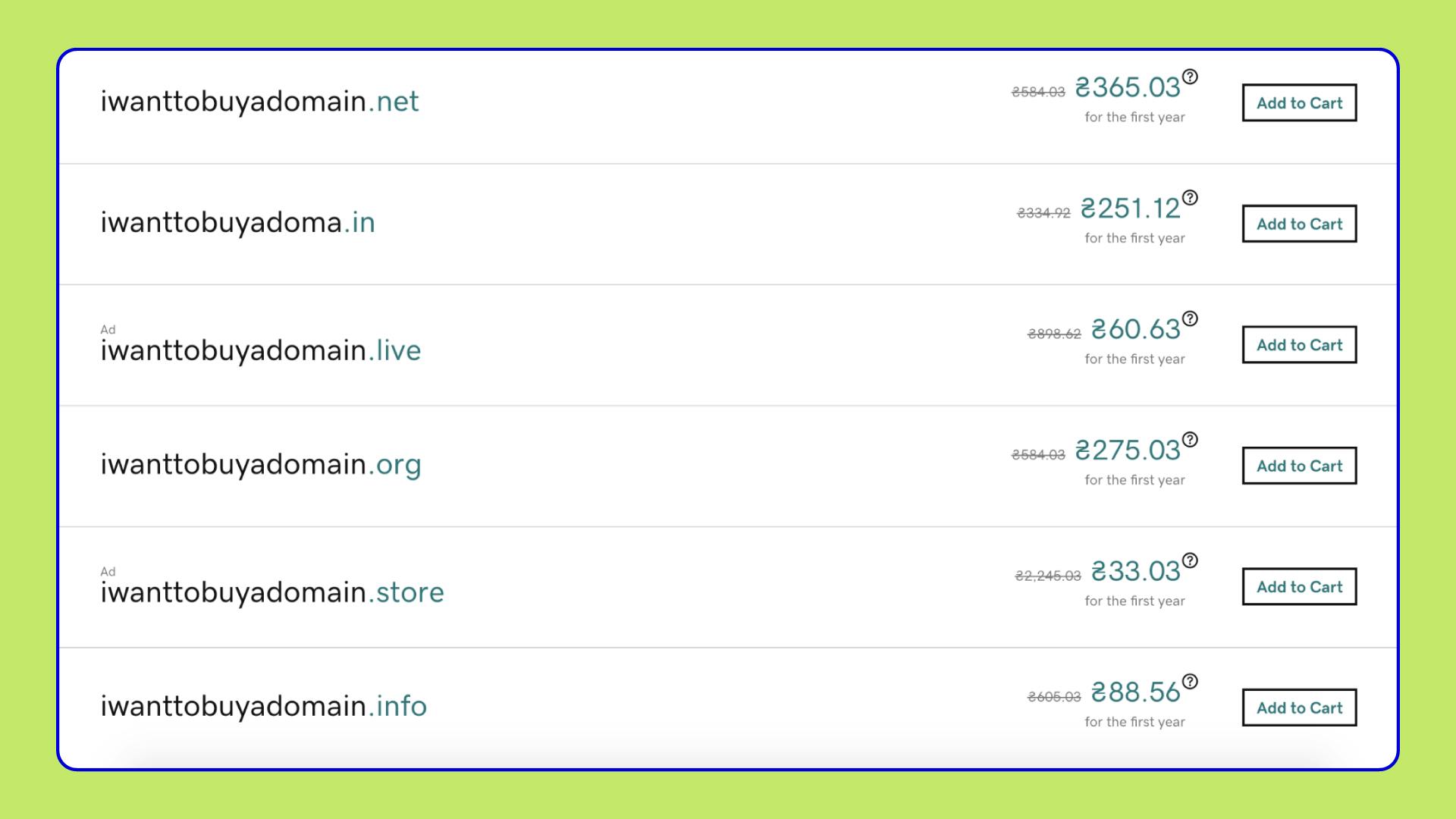 Namecheap
Namecheap, as the name implies, offers website addresses for quite competitive prices. The average price is about $9, but if you aren't very picky about the domain extension, it will offer you a deal you can't refuse – a $1 address you're welcome to use for a year. 

The service also provides different add-ons to your brand-new domain. They are a professional email, SSL certificate, VPN, web hosting and more. The best thing about Namecheap is a domain privacy feature that will cost you nothing. Your personal information will be hidden in the public WHOIS database.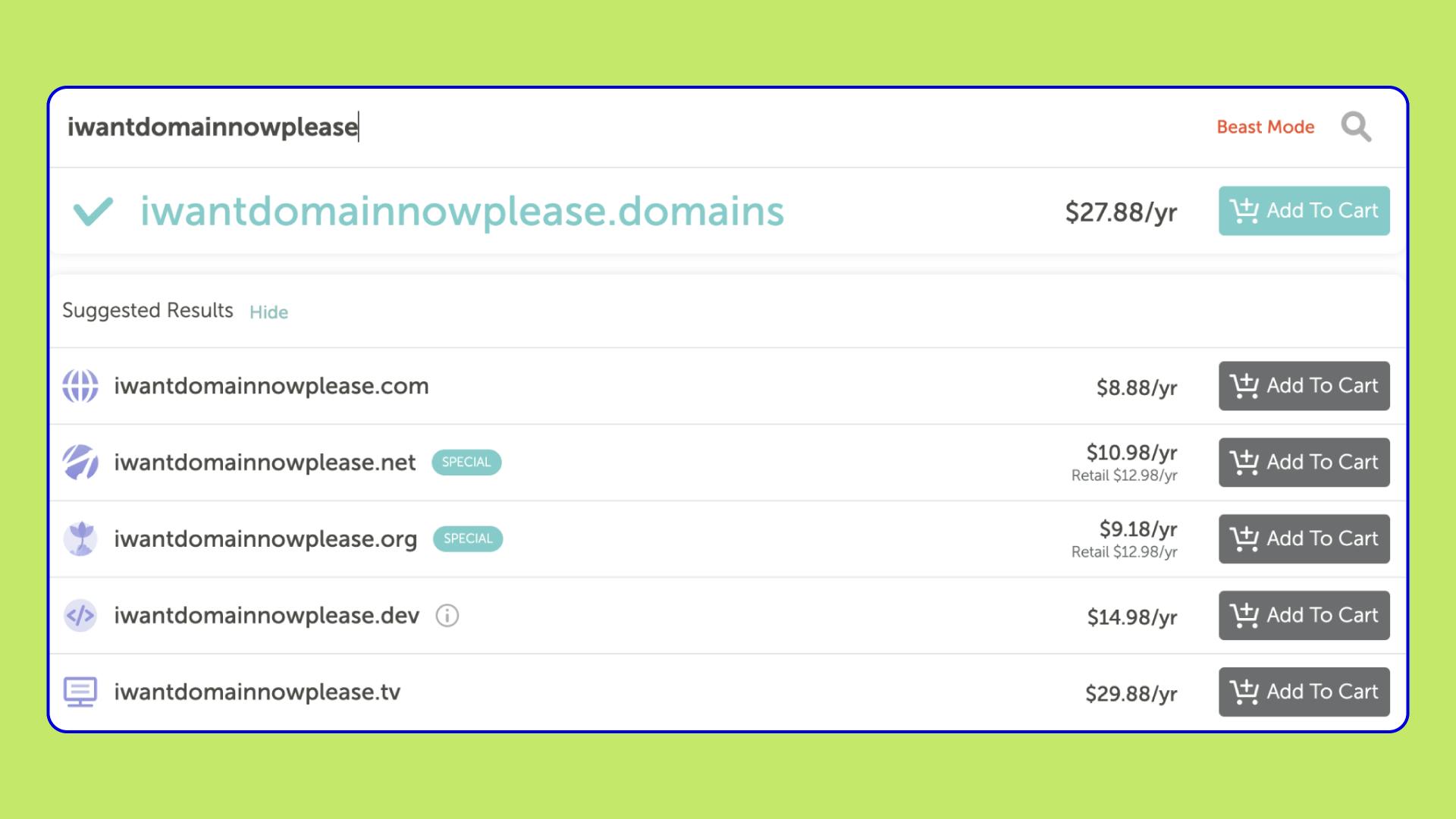 DreamHost
If you've been looking for a domain registrar for some time, you might have heard about DreamHost. It's another popular web hosting provider that offers free website addresses. But this enticing offer is only for those who sign up for their Shared Unlimited hosting plan. 

You might not need hosting, and that's okay. DreamHost sells domain names separately from other services. The prices vary from $0,89 to $34,95 per year. No matter what variant you choose, it will include free private registration.
Final Thoughts
Registering a domain name is a breeze when following the above steps. All you need to do is to select a creative and easy-to-remember name, pick some helpful add-ons and reserve your website address by paying for a subscription. Depending on the registrar you use, you'll be offered instruction on what to do next. Don't even fret about it. The registrars provide detailed manuals on how to connect the domain to the website to finally become visible on the Internet. 

Last but not least, consider adding a wide number of payment methods to your website if you're going to sell products or services there. Do that the next thing after registering the domain name, buying hosting and building a website. 

Luckily, you don't need to wade through a bunch of payment providers to find the best one. Tranzzo has got you covered. We offer a turnkey solution to handle the entire payment process on your website. Besides, we'll back up your transactions by 3D Secure 2.0, the security certificate PCI DSS level 1 and our own anti-fraud system that spots any atypical activities. 

Contact us to find out more about our solutions or sign up right away, and our manager will get in touch with you.